Whilst the history and origins of St Ayles skiffs is well documented on the Troon Coastal Rowing Club website and the Scottish Coastal Rowing Association, it's worth reflecting on what lies behind the very concept. From Fife miners building their own boats, the Shetlanders necessity for everyday life, to today's growing Coastal Rowing clubs that come together with common aim and purpose, the answer is community.
Troon Coastal Rowing club is a great example of community, where people from a wide range of backgrounds and ages come together to share a common interest and passion. Community doesn't reside solely on the water with so many examples of members supporting each other through challenging times and sharing a brew and telling tall tales of past regatta glories.
At Troon we have a growing membership and we thought it would be interesting to hear from two of the newest members to the club.
The first member we will hear from is Lizzie Young. Lizzie joined the club this season and, after a very wet trial row, quickly joined the club. Like many of us, she is keen to increase fitness through a new hobby. She rowed at university (slidey seat variety) and is loving this new challenge. When asked what she enjoyed about the club, Lizzie was very clear. "Everyone in the club has been so friendly and welcoming. I love the banter and the friendly competition. The feeling of winning in regattas is unreal. Plus it's just such a good feeling when you're out on the water with the sun on your face."
Lizzie loves hiking, spends time in the gym and does music theatre. Where does she find the time!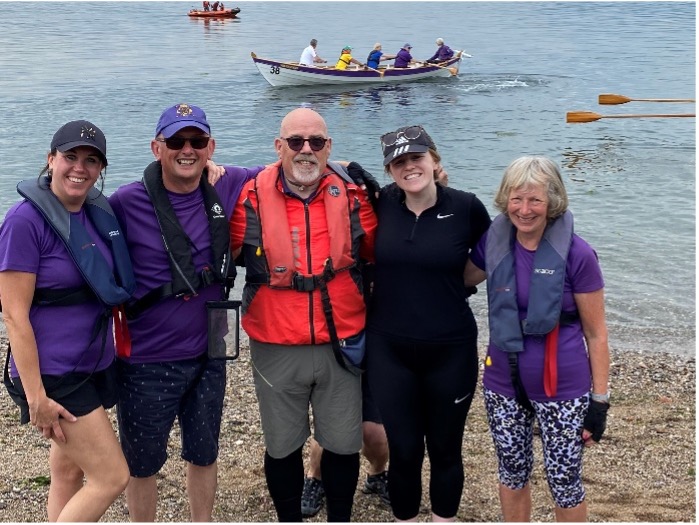 Lizzie recently won gold at the Royal West Regatta and is pictured in her winning team here with Lorna, Steve, Mike, Lizzie and Christine.
Her favourite regatta experience so far was "winning the gold and not realising straight away and still rowing past the finish line".
Lizzie has heard about the incredible work that goes on in the background with build and maintenance and will look to get involved in this in the future. I wonder if Lizzie's secret talent of spinning her right hand round 360 degrees is better for rowing or sanding?
To get to know Liz better and give you something to quiz her about, she is our very first victim of Dream Team Rowing. Who, other than our great club members, would she have in the boat with her for a slow row around Lady Isle ?
Lizzie's Dream Team Rowers
Cox
Gordon Ramsay
Stroke
The Rock
3
Lizzie
2
Emma Watson
Bow
David Attenborough
I don't think Gordon will have an issue with shouting instructions and clearly The Rock will be doing all the rowing. What a great opportunity to take your time and just hear David Attenborough speak. Lizzie is a big Harry Potter fan so I think Emma may get more than a few questions too. What do you think?
The next new member we will hear about is Euan Fell. Euan briefly rowed with the club when he was at school but stopped when he went to university. Like Lizzie, Euan was keen to improve his fitness and meet new people. He is delighted to have recently won gold at Troon's 2023 regatta and is pictured here with Mike, Julie, Christine, Euan and Neil.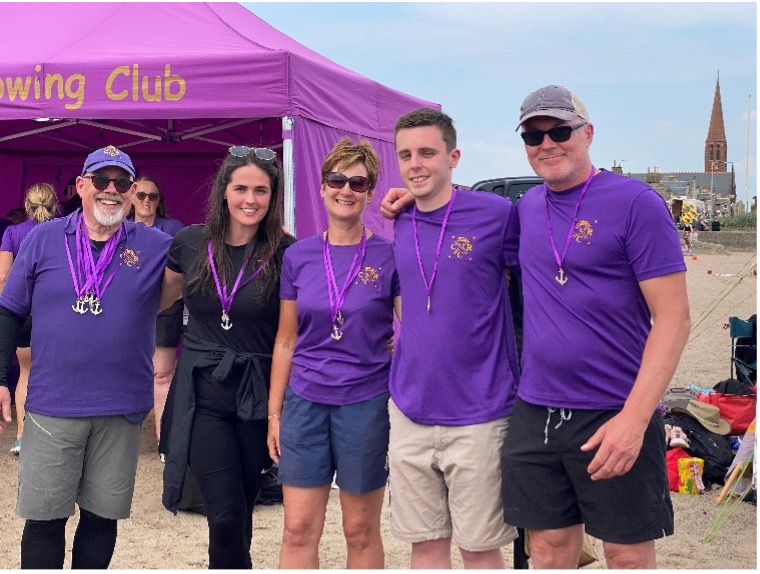 Euan used to play bagpipes in Troon BB pipe band and now plays rugby for Marr 3s. He also does CrossFit so clearly fitness isn't an issue for him.
Euan's dream team rowers are another interesting bunch.
Euan's Dream Team Rowers
Cox
His grandpa
Stroke
Johnny Cash
3
Sir Christopher Lee
2
Oscar Isaac
Bow
Euan
Euan's grandpa used to be in the merchant navy so hopefully would get them round Lady Isle and back. I'm hoping Johnny Cash would sing all the way and I bet Sir Christopher Lee could tell some stories. What a life! Euan finishes with a bit of Hollywood glam with Oscar Isaac. Would you sneak a seat in that boat?
So now that you know a little more about our newer members, why not take some time out for a blether the next time you are in the boat with any of them.
Who would your Dream Team be?
Our next article will hear from some of our longest serving members of the club and how they share the same passion for coastal rowing as our newer members.