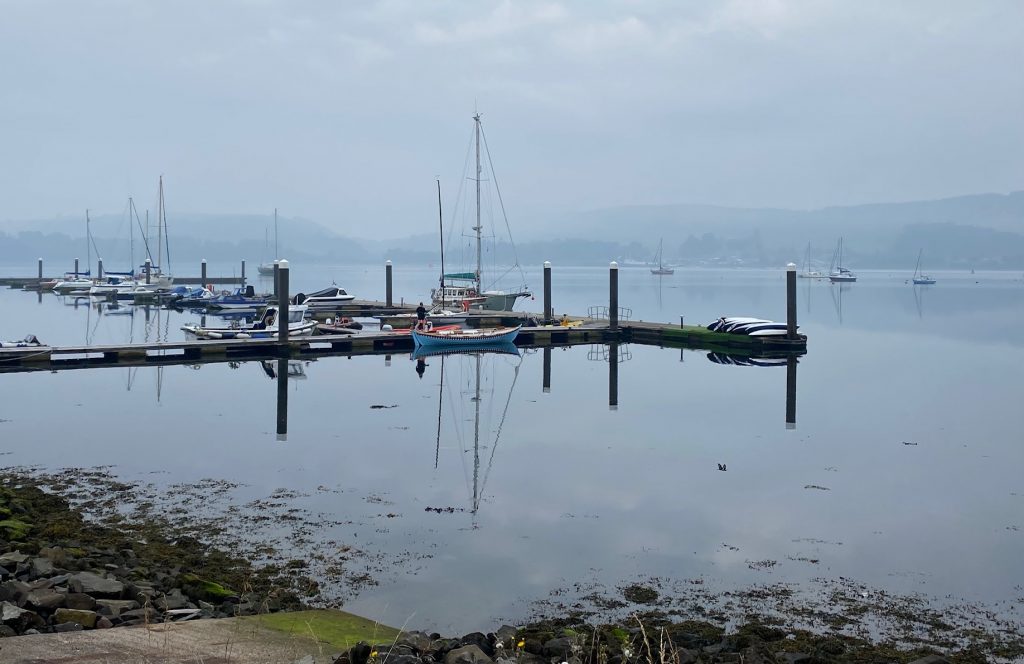 The RNYC was established as the Northern Yacht Club in November 1824 and a Royal Charter was granted in 1830, making it one of the first yacht clubs to receive it. The Royal Northern & Clyde Yacht Club (RNCYC) was formed in 1978 by the merger of the Royal Northern Yacht Club (RNYC) and Royal Clyde Yacht Club (RCYC). Building on this historic background, the club had its inaugural season of coastal rowing in 2021. This year was only the second year of its very own St. Ayles skiff coastal rowing regatta and now opened to a wider field. When Commodore Jim Rogers asked crews to avoid the shallows and the "Flying Boat moorings just below the surface" it just emphasised the history of the area and their club further. These magnificent machines only left seventy six years ago so I'm sure the obstacles will be dealt with someday soon. Further encouragement to avoid submarines only made it a more exciting day.
The day started a little misty but the sea state was dead calm. As the day went on we had a typical Scottish day with some rain, some sun and some wind but overall it was a great day to be on the water.
Preparations for the day started in earnest with pre-race regimes clearly evident. Jaqui with her dark chocolate and Brian with his sweets (clearly professional athlete techniques), others with more traditional means and the ladies team with their stretching exercises.
Eleven members of Troon Coastal Rowing Club attended the regatta.

Races 1 to 5 were 500 metre sprints comprising of 2 heats of 3 boats each in which the crews finishing 1st and 2nd in each heat stayed on the water and went straight back to the starting line for the final. The final race was an "Andy race" of 1500m around a triangular course.
As ever, Mike R was the primary Cox for the day, getting a break from the final race by Paul. We all agreed that forcing him to sit in that seat all day, crossed legged and often wet(the rain) was something we need to address. Being Cox at a race is a tough gig and its vital more learn these skills.
The first victory came in the 'Open Men' race. The crew were Mike R in Cox, Kevin in Stroke, Adrian in 3, Mike K in 2 and Paul in bow.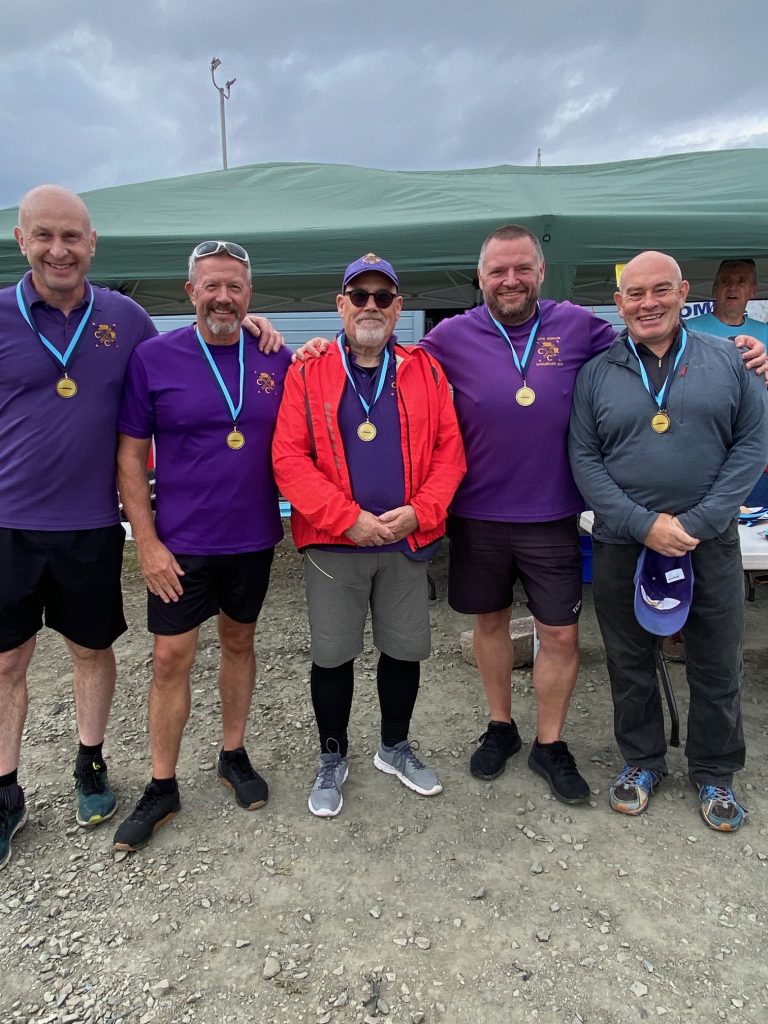 The next first place victory came in the 'Open Mixed 220+' race. The crew for this boat were Mike R in Cox, Christine R in Stroke, Kevin in 3, Mike K in 2 and Louise in Bow. Races stopped for lunch and everyone reflected on how close every race was with all competitors crossing the line within seconds of each other.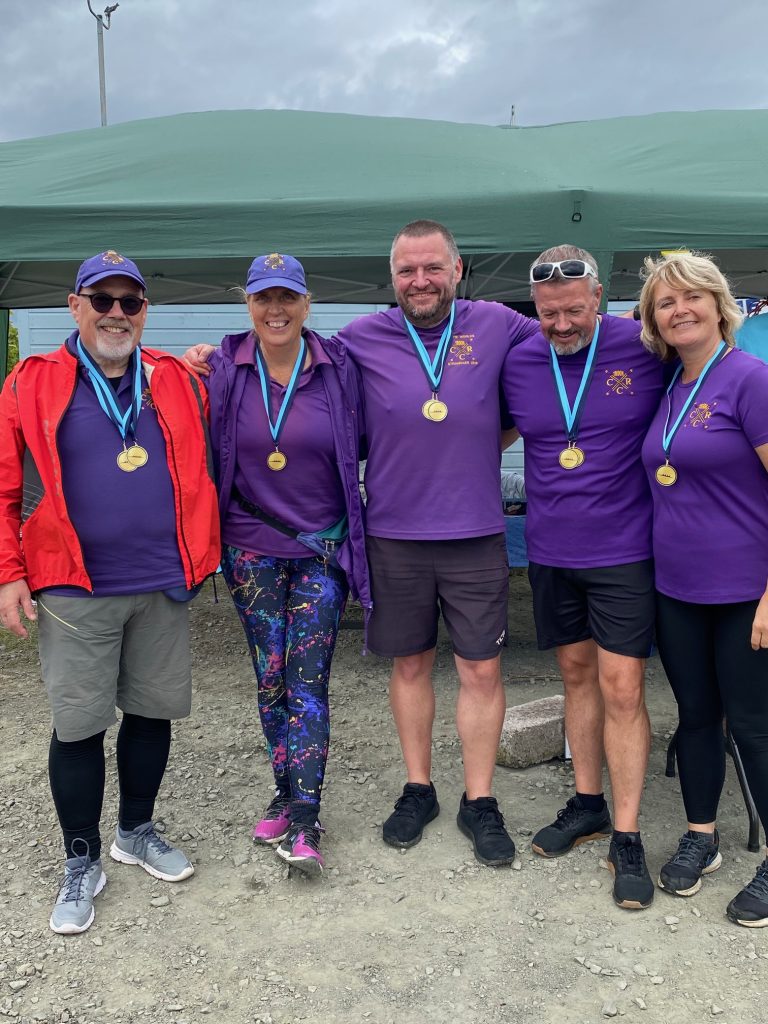 Our third victory for the day came in the 'Open Mixed 240+' race. The team crossed the line and the lead for the overall regatta position changed yet again for the day. The crew for this race were Mike R in Cox, Adrian in Stroke, Christine R in 3, Jacqui in 2 and Paul in Bow.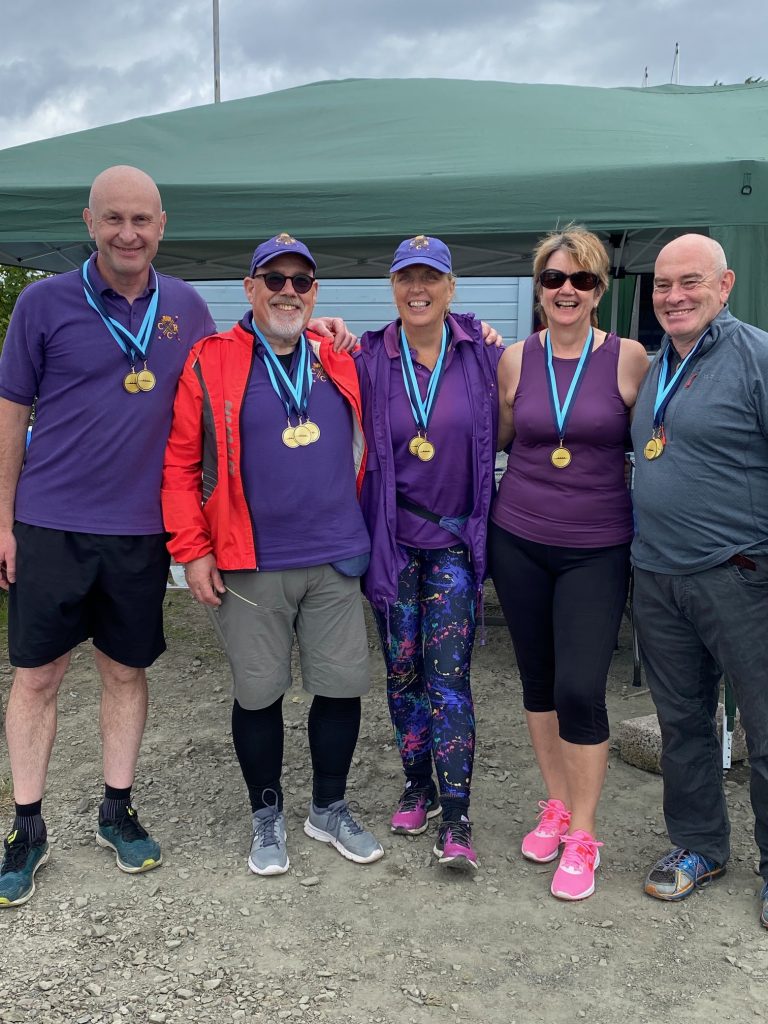 The 'Andy race' was last and an opportunity to row in strange boats with lovely people. Six boats headed off on their 1500 metre race. Picture Ben-Hur, add in a dash of unarmed combat and add some boats and you get the picture. Brian particularly loved the "lawless race, going from 3rd to 6th at the first turn". He also laughingly suggested that perhaps some clubs "clearly usually row in a straight line" but we won't name names. Brian went on to finish fourth but not all boats finished with the same amount of paint on as they started. Lorna grasped victory in the Port Seton boat.
RNCYC ran a great regatta. "Rhu is a beautiful location, the marina is excellent, and they are a very friendly club trying their best on only their second ever regatta" said Jacqui. There was no scoreboards or times for races but that only seemed to add to the relaxed friendly atmosphere of the club and the day.
When asked about highlights of the day from some of the crew, answers showed what a great day it was. Louise simply stated "Winning heats, winning our races, winning the competition" and then went on to explain "she isn't competitive by nature". For Jacqui it was "Seeing a tiny 11 person team pull together to give their all and battle onwards to lift the trophy with many doing back to back races". This was echoed by Brian but clearly the "lawless Andy Race" was his favourite.
Troon performed well on the day and participated in every final heat. This was a great endorsement of our club, the boats and regatta training.
The final results for the day were:

The final points for the regatta were as follows: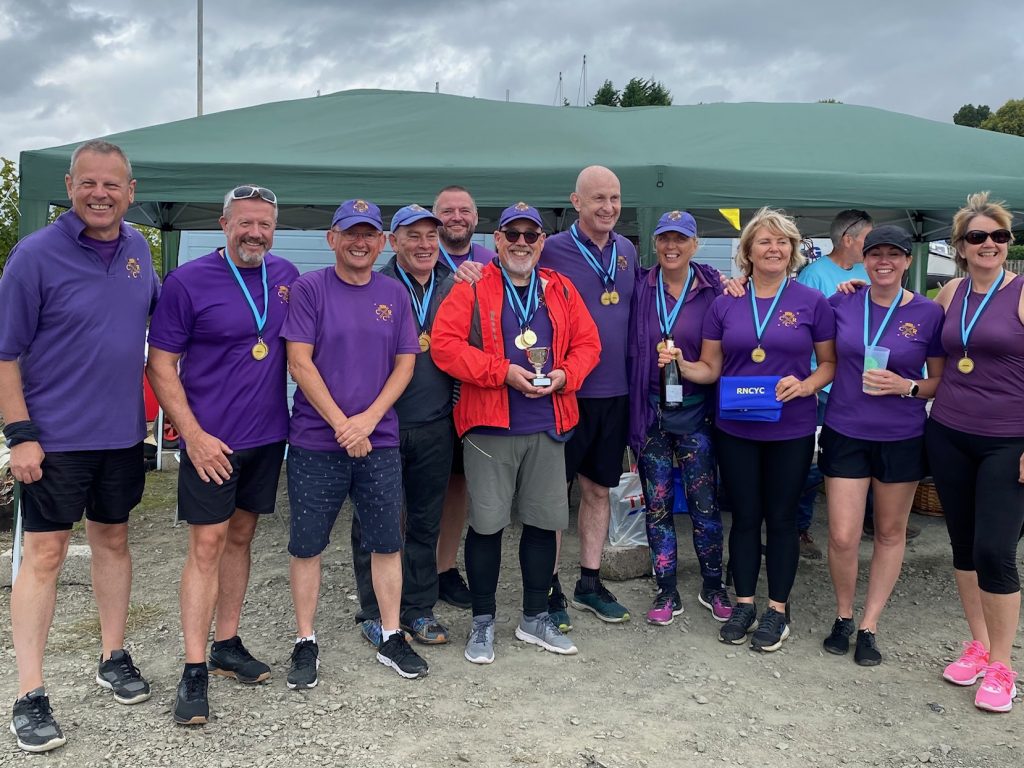 It was good again to see friends and family travelling to support TCRC. Thanks to Rosemary, Paul's wife, and Jim, Louise's partner, for making the journey to cheer us across the line.
The regatta was a great reminder why we all participate in them. The guys attending Rhu commented they were great social events, great opportunities to chat to TCRC and other clubs members in beautiful locations as well as the opportunity to learn gazebo origami. Whilst "winning medals and outright regattas is euphoric and addictive" its great fun, fills you with positivity and according to Brian "a fair amount of commitment to train and learn but where there is a will there is a way".
It was fantastic to see our Chair back on the water after a short absence and he was clearly delighted with the day's outcome. "It was a tremendous effort today with every single point and place earned by every crew making the difference between winning and losing the overall regatta." As Adrian was sitting in his car, taking Ailsa Lass back to her home, the Red Arrows appeared in the sky above Troon in front of him and performed their final showstopping manoeuvre. We have told him the club organised it specially for his return to rowing and the boats return from a victorious day. Please don't tell him it was sheer luck.
Forthcoming Regattas
Rhu reminded us how much we missed these events. The next regatta is The Exciseman's Chase on the 16th September. That will be a hard fought race and a fun day. Our friends in FOCCRS have now rearranged their regatta for the 14th October and we are looking forward to participating with that great club. So come along and join the gang whether you are competing or not. There is something for everyone to do.